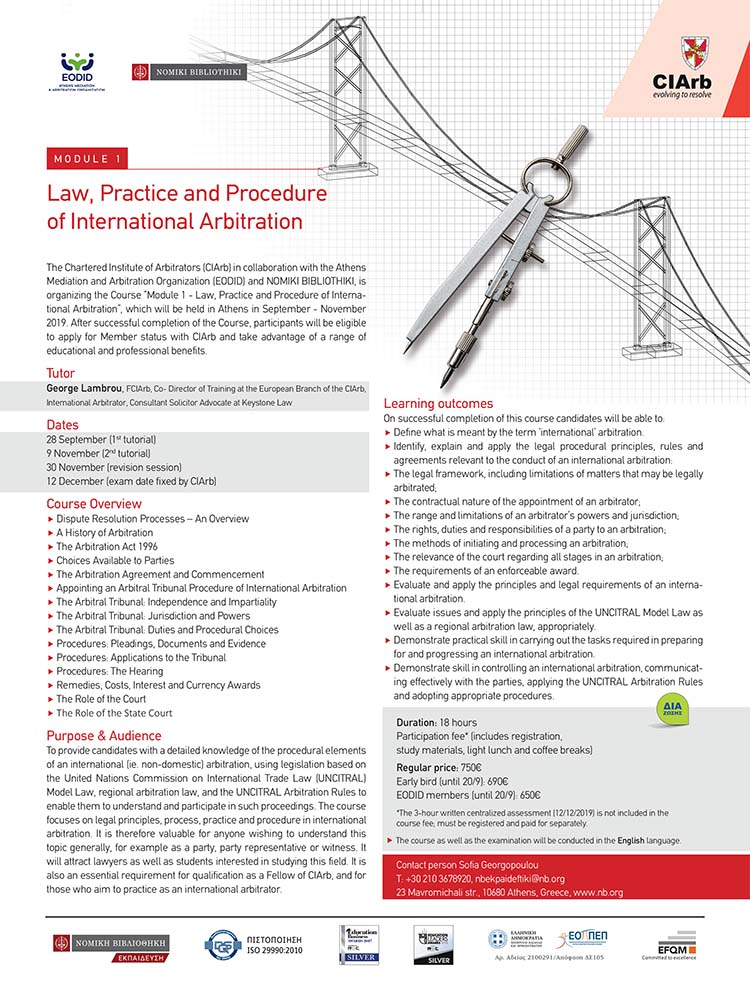 Location:
Combination of: Self-Study/ Online Sessions/ Might require physical attendance
Course Information
What is the aim of the course?
To provide candidates with a detailed knowledge of the procedural elements of an international arbitration, using legislation based on the UNCITRAL Model Law, regional arbitration law, and the UNCITRAL Arbitration Rules.
What are the learning outcomes?
On successful completion of this course candidates will be able to:
Define what is meant by the term 'international' arbitration;
Identify, explain and apply the legal procedural principles, rules and agreements relevant to the conduct of an international arbitration;
Evaluate and apply the principles and legal requirements of an international arbitration;
Evaluate issues and apply the principles of the UNCITRAL Model Law as well as a regional arbitration law;
Demonstrate practical skill required to prepare for and progress an international arbitration;
Demonstrate skill in controlling an international arbitration, communicating effectively with the parties, applying the UNCITRAL Arbitration Rules and adopting appropriate procedures.
How is the course delivered?
The course is delivered over a period of three months, with a combination of private study and face-to-face tutorials.The course start date advertised is the start date of the course when candidates will be required to start their private study of reading NOT when they attend tutorials.The face-to face tutorial dates are listed on the Course Schedule below.
Upon successful registration on the course, candidates will receive confirmation they are booked on the course.
Joining instructions and course materials will be made available on LearnADR approximately 2 weeks before the course start date.
The schedule for this course is provided below to assist candidates in planning their study time.
Private study includes reading course materials and undertaking any self-assessment tasks in your own time.
Date(s)

Study Schedule

18/09/20 – 14/10/20

Private study

Chapters 1-10, inclusive

15/10/20

Face-to-face tutorial

16/10/20 – 11/11/20

Private study

Chapters 11-16, inclusive

12/11/20

Face-to-face tutorial

13/11/20 – 02/12/20

Private Study Revision

03/12/20

Face-to-face tutorial

10/12/20

Examination
Requirements
There are no pre-requisite entry requirements for this course, however, CIArb training and assessment is carried out in English, it is therefore essential that candidates are proficient in both written and spoken English.
Assessment
3-hour closed book examination to be sat in December 2020.
Fees
QAR 2,000 + 870 (assessment fee). The fee includes registration and study materials.
Contact and Registration
For more information and to register, please contact Franco Solano:E: fsolano@ciarb.orgT: (+974) 4496 8256