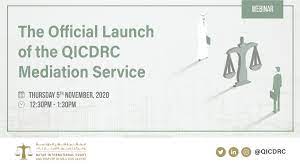 November 05 2020 12:30 PM
- November 05 2020 01:20 PM
An esteemed panel of mediation specialists will talk about Qatar's first administered mediation service as well as the impact of the recently ratified Singapore Convention on Mediation.
Speakers
Justice Frances Kirkham
Judge, QICDRC
Frances practised as a solicitor in England until her appointment as one of the English Technology & Construction Court judges, a post she held until 2011.  Frances is a Justice of the Qatar International Court and Dispute Resolution Centre.  She also works as a mediator, an arbitrator for domestic and international disputes and as an adjudicator.  
Sultan Al-Abdulla
Managing Partner, Sultan Al-Abdulla & Partners
Sultan Al-Abdulla has been in private practice for nearly 22 years. His practice focuses on handling major regulatory matters and complex disputes. As a litigator, he represents clients before all tiers of courts in Qatar up to the Court of Cassation. As part of his arbitration practice, he represented numerous entities in local and international arbitration matters and frequently sits as an arbitrator. In addition, he is frequently called to appear as a Qatari law expert before international arbitral tribunals. Pursuant to the ICSID Convention, he was designated as an arbitrator on the ICSID Panel of Arbitrators for a period of six years with effect from May 2019.
George Lim
International Mediatior
GEORGE LIM, Senior Counsel, was President of the Law Society of Singapore (1998 – 9), and currently chairs the Singapore International Mediation Centre. George serves on the Board of the International Mediation Institute, and was Singapore's mediation consultant to UNCITRAL, which led to the adoption of the Singapore Convention on Mediation. He is the co-editor of Mediation in Singapore: A Practical Guide.
Prof. Zachary Calo
HBKU College of Law
Zachary R. Calo is Professor of Law at Hamad bin Khalifa University.  He is also Professor of Law (Adj.) at the University of Notre Dame Australia and Visiting Professor of Law and Business at The Open University (UK).  He was an associate attorney with Buckley LLP in Washington DC, is a member of the Qatar Sports Arbitration Tribunal, and serves on the Ethics Committee of the International Mediation Institute.  He is co-editor most recently of Agape, Justice, and Law (Cambridge University Press).