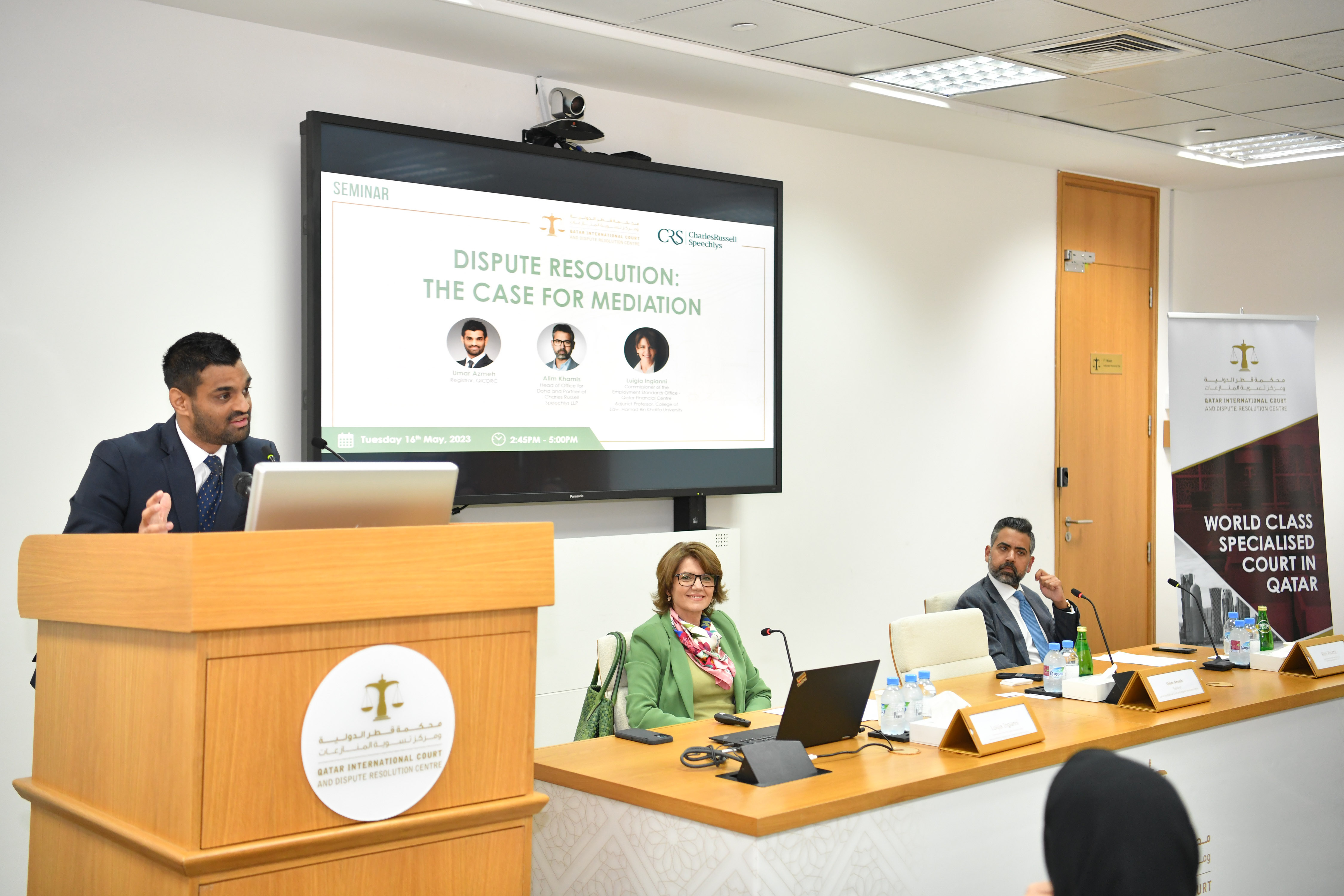 May 16 2023
The Qatar International Court and Dispute Resolution Centre (QICDRC), in company with international law firm Charles Russell Speechlys LLP, hosted a seminar titled Dispute Resolution: The Case for Mediation, on May 16. The event focused on the purpose of mediation and its potential use as an early, swift, and cost-effective dispute resolution (ADR) method.
The seminar featured three legal experts, Umar Azmeh, Registrar at QICDRC, Alim Khamis, Partner at Charles Russell Speechlys LLP and Head of the firm's Qatar office and Luigia Ingianni, Commissioner of the Employment Standards Office at Qatar Financial Centre and Adjunct Professor at the College of Law in Hamad Bin Khalifa University.
During the session, the speakers discussed the importance of mediation and how it can facilitate dialogue between parties with the aim of reaching a mutually agreed decision. They also examined mediation practice and procedure and compared it to other forms of alternative dispute resolution (ADR) such as arbitration. The speakers' session was followed by a Q&A where attendees had the opportunity to network and engage in discussions about the topic.
Commenting on the event, Umar Azmeh, Registrar at QICDRC, said: "This was an important event which was of use to seasoned mediators, those who are looking to develop mediation practices, and interested observers alike. The QICDRC is proud to host important events that touch upon cutting-edge issues in Qatar and the region generally. It also foreshadows some significant developments in mediation at the QICDRC in the near future."
Alim Khamis, Partner at Charles Russell Speechlys LLP and Head of the firm's Qatar office, added: "Mediation is often under-utilised in corporate disputes. It was a pleasure to shed light on the value of mediation as an alternative dispute resolution method and it was our privilege to present before such an enthusiastic and interactive audience. I hope that we continue to build upon such initiatives in Qatar and the wider region in future."
The event provided a mutual platform for education and awareness about legal issues and topics and was part of QICDRC's mandate as a world-class international court. Visit https://www.qicdrc.gov.qa/services/mediation to learn more about Mediation procedures at the Qatar International Court.